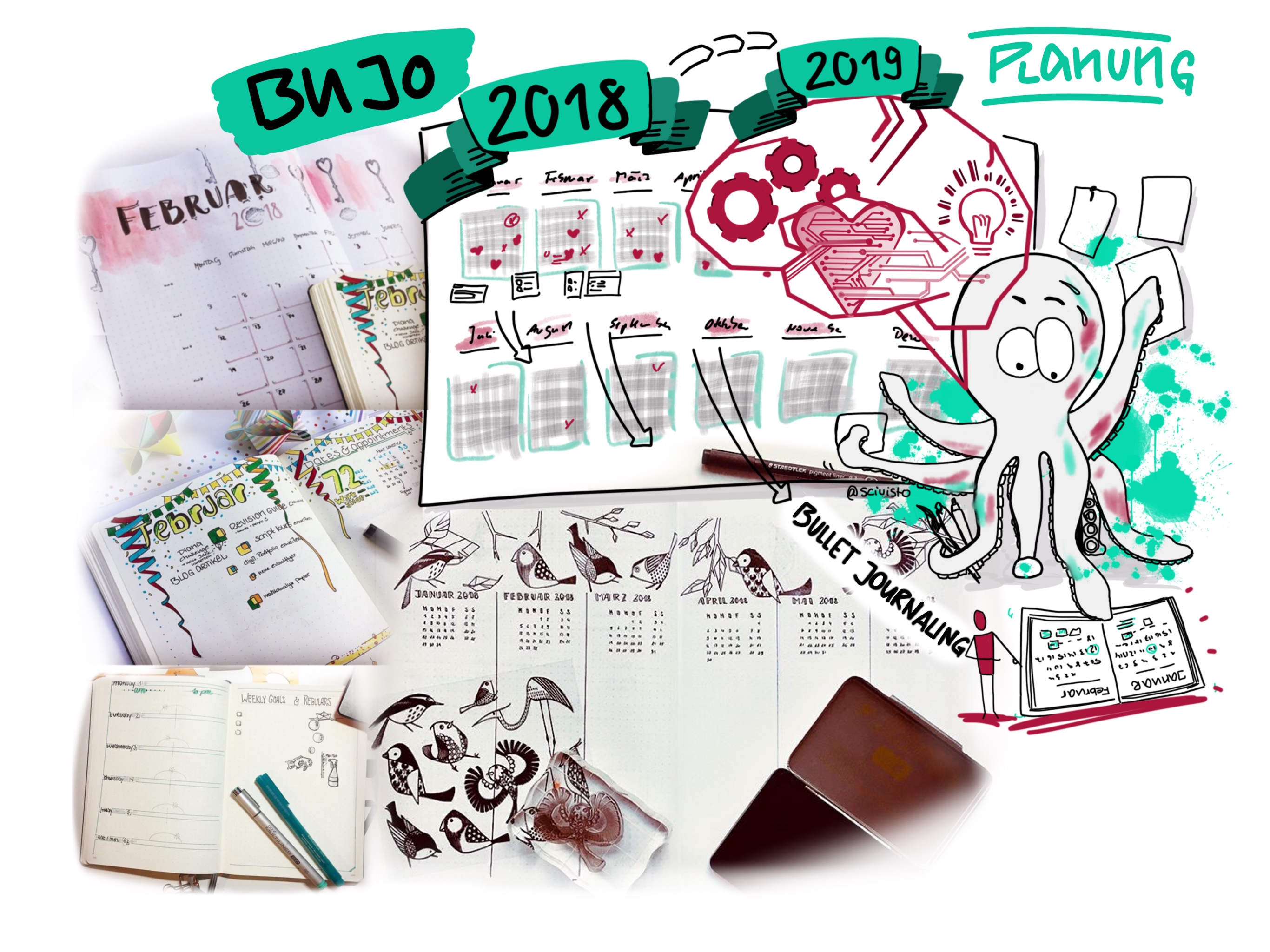 26 Feb

Bullet Journaling Workshops with SciVisTo

As the days grow longer our list of things to do grow as well. Organizing yourself is here one key element but how do we do that? We use calendars, notes or write ourselves lists. Digital versus analog? Whatever suits you and works is fine. If you are reading this and that little voice in your head says 'well, you know you could be better organized!' keep reading. On option for you might be Bullet Journaling. It is an organisation method, mostly analog based on a very efficient system. You like to write lists, AND tick them off. Well Bullet Journaling might be just the right thing for you!

When to start best with a Bullet Journal?

The basic structure of a BuJo is made in a matter of minutes, the concept is easy, you just have to follow it. Meaning, you can start anytime. Just usually people want their BuJo a little 'fancy' and 'pretty looking', well that is understandable but for that we should pick a good time. Which is, coming from my experience, in the middle of the year or at the end of the year. Exactly when most people buy their calendars at that time and switch notebooks. So maybe that fits for you as well. Besides that way you will have enough time collecting ideas and browsing through the internet getting inspired. AND that is why my next BuJo Workshops are in May – June – July. That way you can decide if you are preparing a Journal right away for the summer or all the way for the new year. Your choice. It might be even a nice gift for a very good friend.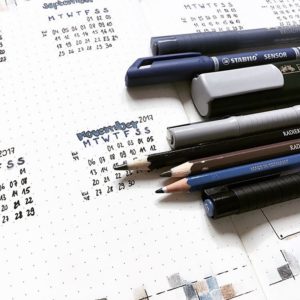 Next Workshop dates:
May 5th. 16 – 20 o'clock Bullet Journaling 1×1 95€ p.p. incl. starter set
June 19th 16 – 20 o'clock Bullet Journaling 1×1 95€ p.p. incl. starter set
July 17th  10-17 o'clock Bullet Journaling A-Z 150€ p.p. inkc. starter set
You would like to have an earlier date? Well not big problem if you can organize 4 other people for the workshop. Then we will be able to set a date in a matter of 4 weeks for a workshop in Potsdam.
Short or long workshop, what's the difference? Bullet Journalling 1×1 and A-Z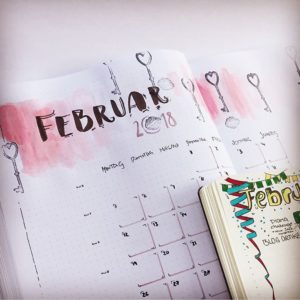 Short workshops from 16 – 20 o'clock teach you  the essentials on how to start with a bullet journal. You will get a script, many instructions and ideas. We are developing a symbol key together and go deep into planning methods that will help you to organize your daily tasks. The workshop is as well interesting for those already using a Bullet Journal, see it as an update on style, inspiration and trying out all the material i will bring with me.
The longer, daily workshops will give you more opportunities to individualize your designs. Your symbol key and the different logs. We are trying out different designs and try to match the right design ideas to your life style. During class we have an extra session of Sketchnotes included. The method actually comes in handy while doing bullet journaling. Another special part is the extended typography and  lettering part. Since Bullet Journaling is an organization tool we will deal with many options on self organisation that can be easily used along the BuJo and where our BuJo comes in quite helpful.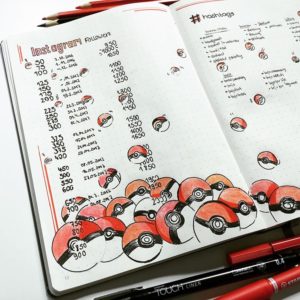 After every workshop even without participation you can as well come along and get more merchandise like pens, vouchers or notebooks even workshop starter sets. I always have a small box of goodies with me which you can purchase. If you just want to come along to say hello, you can do that as well too. I am looking forward to meet you.